Art
Most Paintings are on Loan from Mom & Dad LoGiudice
Updated November 2, 2007
(click on thumbnails to see larger images)
The following is quoted from http://www.philhammon.com:
"Though Phil Hammon has spent his entire life creating art it wasn't until 1986 that he became involved in the art publishing business. For fifteen years Phil has been learning the business side of the art world and in 2001 decided to brave the waters as an independent artist. With artworks all over the world and over 600 designs, since 1994, Phil has demonstrated that he has a unique eye for the abstract medium. The artist usually paints on paper or canvas using acrylic paints but he has been known to create sculptures and abstract landscapes. Phil's bold sense of color and earthiness can translate well into any interior environment and will bring many years of beauty to your home or office environment.


Phil has been busy with a few new projects in the Prescott area and his work can be found in city hall and also adorning the set of "AM ARIZONA" on Channel 7 (Prescott)/ 27 (Phoenix) AZTV. Phil's recent activity has been in Prescott, AZ but he has work available worldwide and though he basically creates with a ONE OF A KIND mindset, he is also well suited to create limited editions, poster work and graphic design for any market."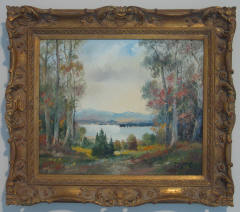 C.L. Gast:
Gast is an Austro-German painter born early 1900's.
He has been exhibited throughout Europe and among his favorite subjects were the Alps.
Please click here for a detail of the signature on the "Gast" painting.
Leon Frias was born in Madrid.
Madrid, 1946. Recognized Spanish painter of REALISTIC style. The theme of his works are centered in cinegetic scenes and of the Spanish fauna. He performed many exhibitions and received numerous rewards. Cenegetic paintings are rarely cultivated in Spain, hollow is he who covers up Leon Frias. His works do not cover every theme of the period, but his works are always well planned. His theme is unique with Spanish subjects caught sometimes at moments of rest, like sculptural animals and studies of anatomy, but also it also often captures the beauty in movement, with realistic scenes
Born in Malaga, Spain in 1922. His studies at the Madrid Academy of Arts were interrupted when he was drafted. During service in North Africa, he was encouraged to paint portraits of his superiors and he continued after his release from the Army. Exhibitions in Madrid, Brussels, Paris, London and other places established his reputation as a leading figure painter reminiscent of the masters of the 19th Century. Several museums in Europe have acquired his work.
The following is quoted from http://josepuyet.homestead.com/:
"He was born in 1922 in Malaga Spain (same city as Picasso) and he comes from a lineage of painters in his family. His Grandfather is Jose Padilla, one of the great 19th century Spanish Artists. He traveled to many schools in Europe and studied to master his painting techniques. He unfortunately died in 1999.
. . . Jose Puyet painted the female like no other person...he painted the spirit, essence and soul of the women, whether it is the gypsy, the flirt, or the dreamer. His style is unlike most other painters, and his ability to express the character of his subjects is like no other. Turner Wall Accessories had replicated many of his works --two of the more popular being "Lady of Castile" as well as "La coqueta".
Jose Puyet finally came to know Florida as his home and he set up an art gallery that was friendly to Europeans and Americans alike. Later, he was inducted into the Spanish Royal Art Museum."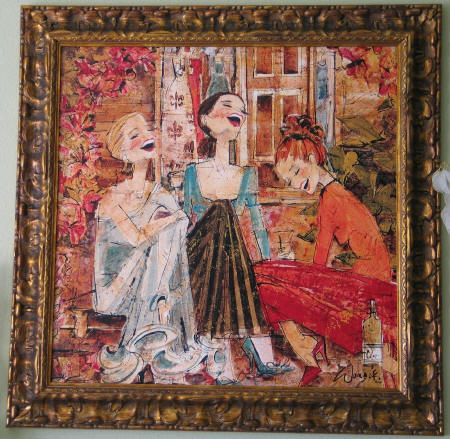 Kathy Womack
From the "Women and Wine" Series of prints
Seventeenth Limited Edition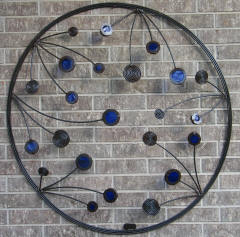 Clay Brom
Since taking his first welding class 8 years ago at Austin Community College, Clay Brom has been creating custom metal work at his studio in Gonzales, TX. His creations range from small decorative knick-knacks to large functional units.
.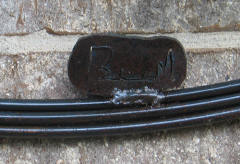 This page was last modified on Monday, 08-Feb-2010 22:47:08 CST